We offer an extremely flexible Rent-To-Own instrument rental program, with low monthly prices (that include insurance) and plenty of options for discounts, upgrades, or changes to fit your budget and your goals!
Our rental program in a nutshell:
Rent To Own (RTO) - continue renting at your low monthly payment and you will eventually own the instrument!

Terms typically range from 28-48 months, depending on the type of instrument.

No minimum time commitment – rent for as short as 1 month, or until you own it!

You can return at any time with no further commitment.
You can exchange instruments and have your equity* transfer to the new instrument
If you want to purchase early, you can earn a 25% discount on your remaining balance at any time if purchase before the RTO term ends
If your student outgrows the beginning instrument before the end of the Rent To Own period, you can also use your built-up equity* to purchase a NEW Step-Up instrument in the same instrument family!

We rent only high-quality, name-brand instruments endorsed by local band directors to give your student the best start possible with a well-functioning instrument that will stand up to regular use and last for decades.

All instruments are prepped, adjusted, cleaned, lubricated, oiled, play-tested, and disinfected by our in-house staff of professional repair technicians
We offer New, Like-New (A), Gently Used (B), and Used (C) Instrument outfits, which include important accessories such as a durable hard-shell case, mouthpiece, reeds, swabs, brushes, etc.

Low monthly rental payments

include Damage & Theft Coverage Insurance (DTC, or just 'Insurance').

Depending on the instrument, this Insurance is either $5 or $8 per month, and does not count towards the purchase price.
All Illinois Sales Taxes are also included in your monthly rental prices

Are automatic - no hassles of having to remember to pay or reminder emails flooding your inbox!
* Sales tax and Insurance payments do not count towards built-up equity.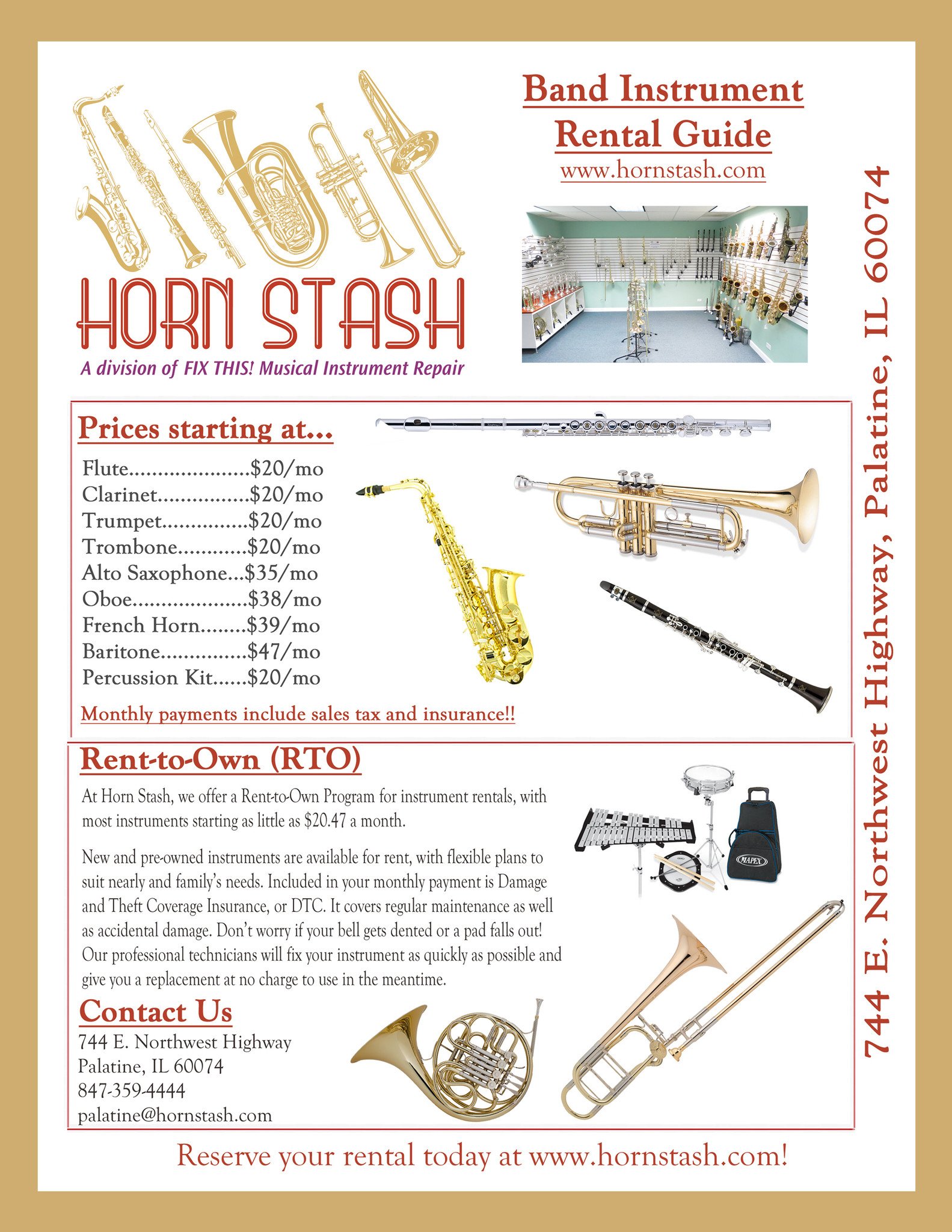 Prices listed above are for C condition instruments, which are in excellent playing condition but may have cosmetic blemishes such as scratches in the finish or previous evidence of repair work. All rental instruments are band director approved, name-brand instruments that are good quality, reliable, and durable instruments, that are suitable for beginners and will hold up for years!
Not sure which instrument would be the best fit for your student? Check out these instructional assembly videos here to see what goes into putting together some of the most popular beginning instruments. 
Your instrument can be reserved and picked up in Palatine at 744 E. Northwest Hwy, Palatine, IL 60074.
Need more information or interested in reserving an instrument over the phone?  Call us at (847) 359-4444.
Please note that instruments listed on our Used and New Instrument pages are not a part of our Rent To Own program, and are only up for sale.